Wednesday, October 17, 2018
The irony in Bollywood is loud and clear. While films with women in strong and powerful portrayals are gaining success at the box office, a slew of women in the industry are coming up with accounts of facing sexual harassment in the industry. Actor-producer Saif Ali Khansays fraternity members should make sure that the place is safe for women to work.
"Some ridiculous and inhuman things have happened in the past few years and I know that new talents might fear to step into the industry after knowing those stories of victims. But as member of the fraternity, we have to make sure that women are treated with the utmost dignity and there is no abuse of power," Saif told IANS in an interview here.
'Thugs Of Hindostan' actor Aamir Khan is soon going to be back with 'Satyamev Jayate' where (if sources are to be believed then) Aamir with be kickstarting the show with #MeToo movement as the first topic. Check out the story here.
MeToo movement may have taken time to get to Bollywood but is now firmly making its presence felt with impact on some of its biggest projects. Popular industry names embroiled in the controversy are either stepping down from projects or being asked to leave. Top of the list is the dissolution of production house Phantom Films, after co-founder Vikas Bahl was accused by a female employee of sexual harassment and the company took more than a year to respond.
"At Aamir Khan Productions, we have always had a zero-tolerance policy towards sexual misconduct and predatory behavior of any kind. Two weeks ago, when traumatic #MeToo stories began emerging, it was brought to our attention that someone we were about to begin work with has been accused of sexual misconduct. Upon enquiry, we found out that this particular case is sub judice and the legal process is in motion…without coming to any conclusions about these specific allegations, we have decided to step away from this film," Khan said in a statement along with wife Kiran Rao, without naming Kapoor.
Wednesday, August 17, 2016
Bollywood superstar Shah Rukh Khan has been detained by US immigration authorities for the third time, prompting allegations of racial profiling.
Indian actor and TV personality Khan, 50, took to Twitter expressed his dismay.
"I fully understand & respect security with the way the world is, but to be detained at US immigration every damn time really really sucks," Khan wrote on Twitter.
His comment had been retweeted more than 7,000 times and favorited more than 12,000 times by Friday morning, US time.
The U.S. Ambassador to India also tweeted an apology about the controversy, saying "We are working to ensure it doesn't happen again. Your work inspires millions, including in the US."
She has won six awards, the mayor of Ohio has named a day named after her, and hers is one of the most recognised Indian faces across the globe.
Now singer Shreya Ghoshal is set to serenade more than 3000 Kiwi audiences at the Trusts Arena in Henderson.
The 32-year-old began training in classical Indian music at the age of six. Twelve years later Ghoshal embarked on her Bollywood singing career. In an industry that produces more than 1000 flicks a year, with an average of six songs per film, the talented songstress has never been short of work.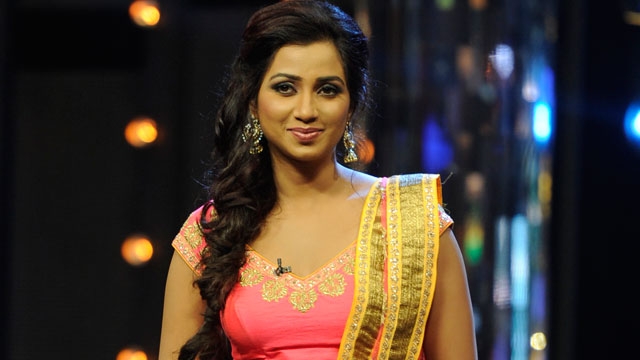 Momal Sheikh, who is stepped into Bollywood with her upcoming debut Happy Bhag Jayegi has noticed the difference in work quality between Bollywood and the Pakistani film industry.
While talking to Times of India the actor said, "There is a huge difference in terms of quality. I have never done a Pakistani film before, but from what I can gauge; Bollywood is relatively warmer and kinder. Here, people work like a family unit rather than professionals. After doing a Hindi film, I have matured as an actor."
Momal said that working in Bollywood is seen as a huge achievement for Pakistani actors, in light of the recent influx of actors from Pakistan to India.
"The trend isn't really a recent one, but I feel happy that finally the right kinds of artistes are coming from across the border. Fawad Khan is brilliant and I feel proud when people ask me about his Pakistani shows. People like him have put the spotlight on our country and have set the bar high for all of us. Pakistani actors feel the same pride for Bollywood that Deepika Padukone and Priyanka Chopra feel for Hollywood. Working in Bollywood is looked upon as a big achievement in Pakistan," she said during her interview.
Momal also mentioned how she gets time to catch up with Mahira Khan and Mawra Hocane nearly every day as most Pakistani actors are busy with work in India
Wednesday, May 11, 2016